About P.P. Bliss And the Museum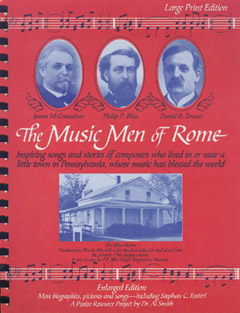 "The Music Men of Rome" provides information about James McGranahan, D.B. Towner and other gospel songwriters besides P.P. Bliss from the Rome, PA area.
The primary source of information on Bliss' life is a book called the "Memoir," which was assembled and published by Daniel Whittle in 1877. Because this material is now in the Public Domain, we are able to include nearly all of the text of the Memoir on our site, with illustrations added as they are available.
The Museum is housed in the home Bliss bought in Rome, Pennsylvania, where he lived before moving to Chicago to pursue his career as a gospel songwriter. The Museum is open to the public on a limited schedule, or by appointment. The Museum has on exhibition many items that belonged to the Bliss family, along with copies of almost all of his published music.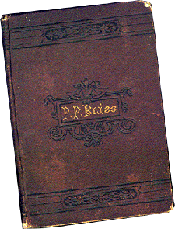 The Rome area was home to a surprising number of hymnwriters in addition to Bliss - James McGranahan, Daniel B. Towner, and others. Although the museum is focused on P.P. Bliss, we some material on exhibit regarding these other gospel hymnwriters.
The Memoir is the main source of information about the life of P.P. Bliss