The Songs of Philip P. Bliss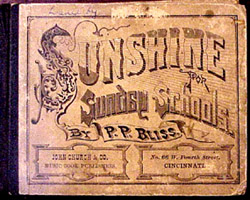 Sunshine for Sunday Schools is one of the songbooks Bliss edited, containing songs of his own as well as those of many other gospel songwriters. The Museum holds copies of many of Bliss' published songs.
Although he was only 38 years old when he died, Bliss wrote over 300 published songs, and edited songbooks containing the work of other hymnwriters.
Although he is remembered mainly for his hymns and gospel songs, Bliss also wrote humorous songs and instrumental music for use in instruction books. Some of his humorous songs were published under the name "Pro Phundo Basso."
The Museum has collected as many of Bliss' songs as we can find, and we are working on posting at least the lyrics to all these songs on our site. When we receive requests asking about "a song grandmother used to sing" or a song someone wanted sung at their funeral, if Bliss was one of the authors, we can often provide lyrics and sheet music for the song. Posting the lyrics to his songs helps people who are searching for a particular song.
Because all of Bliss' music was published well over 100 years ago, we believe that it is all now in the Public Domain, and that we can legally post the lyrics and printed music for these songs. If you believe otherwise, please contact the museum so that we can come to an agreement.